Car rental Crete Holidays
For affordable and reliable car rental on Crete.

We would like to inform you abou the situation and the new rules after Lockdown on Crete (28/08/2020 Update):
Attention!!
The most existing measures will remain in place for another 14 days:
- masks in indoors spaces (apart from restaurants and gyms)
- limit in the number of people in shops
- no festivals (panigiria)
- arrivals from land borders
A few changes have been announced:
- From the 1st September, travellers from the Netherlands will no longer need to bring a negative covid test.
- Flights from Barcelona and Catalonia will cease from the 31st August
-From 17 August travellers from Belgium, Spain, Czech Republic & Sweden traveling by plane to Greece should consult a negative Covid-19 test on arrival. This PCR test must have been taken no later than 72 hours in advance. This also applies to travellers entering Greece through the country border.

-All travellers are obliged to complete their PLF (Passenger Locator Form) at least 24 hours before entering the country:
Masks in Greece 29/07/2020.
"We must learn to live with the use of masks," the minister said.
In addition to those areas where face masks were already obligatory, from Wednesday people will also be required to wear a face mask when entering:
Shops providing goods and services of all kinds
Public utility companies
Banks
Doctors' surgeries
Municipality buildings
Food retailers (bakeries, butchers, greengrocers etc)
Hair salons
Beauty parlours
Other areas where the use of face masks is already mandatory include:
All public transport
Taxis
Supermarkets
Hospitals
Health centres and diagnostic centres
Lifts
Ships
Airplanes
Staff serving customers at restaurants, cafes and bars
Rules in the Covid-19 season!
Arrivals:
From July 1 direct international flights will be permitted at all other remaining airports around the country, allowing tourists to fly directly to tourist destinations. Spot Covid-19 tests for visitors arriving to Greece will be conducted using swab tests and will be mandatory for those selected for tests; visitors will not, however, be quarantined on arrival, as was the case during the lockdown phase.
The use of face masks is mandatory after entering the airport terminal; a mask must be kept on throughout a passenger's stay in the airport areas, during boarding, and during the flight (domestic or international). Passengers should also be aware that they may be asked to temporarily remove their mask during security processes and identity checks. Hand sanitizer dispensers are available in over 300 spots at the airport, including the bathrooms.
Plexiglass panels have been installed for additional protection in areas where contact with employees is necessary such as ticket desks and information counters. To minimize waiting times, passengers are encouraged to select e-service options (web check-in) prior to their departure for the airport, as well as within the airport areas (self check-in, baggage-tag printing, drop-off baggage, e-parking). Seating in all waiting areas has been re-arranged to allow for safe minimum distances. The current recommendation is that every other seat be left vacant. However, families or couples traveling together do not have to keep this distance.
MASKS

The use of disposable or reusable fabric masks is mandatory on the Metro (subway) and all other forms of public transportation, including taxis, shuttle buses, and other tourist vehicles.
FINES

The fine for not using a mask where required is €150.
SHOPPING

You may need to wait for a few minutes before entering many shops. Smaller ones up to 20 m2 will be able to host a maximum of 4 people at the same time (including employees). Stores from 20 to 100 m2 can have a maximum of 4 people inside plus one person for every additional 10 m2. Stores 100 m2 and above will be able to welcome a maximum of 12 people, plus one more person for every additional 15 m2. Distances of at least 1.5 meters must be maintained by customers and employees and the use of masks by employees is mandatory.
DRINK & EAT

At present, all restaurants and café-bars are open. The minimum distance allowed between tables ranges from 70cm to 170cm, and no more than six people are allowed at one table, although these restrictions do not apply to families with children.
Information signs will remind people of individual hygiene rules and of safety measures applying to all spaces. Customers will be encouraged to make electronic transactions. Sanitizer gel will be available at cash registers; if the owner deems it necessary, a protective plexiglass screen will be installed, as well as markings on the floor to delimit safe distances for queuing.
ARCHAEOLOGICAL SITES- MUSEUMS

Archaeological sites now operate on extended summer hours (8 a.m.-8 p.m.) to avoid large crowds from forming. In order to maintain the minimum 1.5m safety distance between people, the number of visitors allowed in at every archaeological site is limited, as is the number of visitors allowed to enter every hour.
Specific routes have been demarcated, the entrance and exit separated and plexiglass screens installed wherever needed and possible – for example, at the Propylaea on the Acropolis. The use of protective masks and alcohol-based sanitizers on site is strongly advised.
TOUR BUSES

All tourist buses are allowed to operate at up to 65% capacity. All passengers must wear protective masks on board. All tour buses must provide hand sanitizer by the entrance. Companies are advised to install transparent protective dividers in buses between the driver and the passengers. On special open-air tourist buses, at stops passengers will only be allowed to embark after all those getting off have done so. After each route, the cleaning of surfaces and high contact spots (e.g. handles) is advised.
- TRANSFER CARS

Customer transport will be allowed via private transfers only. Vehicles with up to 7 seats can carry no more than two passenger plus the driver. Companions of people with disabilities are exempt from this rule. 8-9 seat cars can carry up to 3 passengers. The passenger limit will not apply if the passengers are family. The driver and passengers must all wear masks.
- RENT A CAR:
Rental cars will be disinfected between uses by different clients. Additionally, the number of passengers allowed will be restricted: For cars with up to 7 seats only the driver plus 3 passengers. For eight or nine-seat vehicles, the driver will be allowed to carry up to 5 passengers. These restrictions do not apply for families.
ΙNFORMATION (HEALTH-RELATED) @ HOTELS

Upon arrival, you're advised to ask about the establishment's policy in case of health incidents and about the medical facilities in the general area, including the public and private hospitals, Covid-19 referral hospitals, and the pharmacies. Hotels are advised to provide printed brochures with basic health instructions translated into English, French and German, as no such electronic app currently exists.
EMERGENCY NUMBERS

The European Emergency Number is 112. For any Covid-19-related inquiries, dial 1135.
@source : ekatimerini.com
What are we going to do before every delivery?
The car will be disinfected before every delivery.
We are obligated to wear masks on delivery of every car!
the steering wheel, gearshift, parking brake and driver's seat will be covered with a cover that will be removed before the car is delivered.
For any question or advice please do not hesitate to contact us!
Wats app: (++)31-85 00 21 590
Email address: Myrto@crete-holidays.net
Stay Safe & See you soon!
** ''I consider each customer as a family member who deserves nothing but the best service'' -Tammy Toh
Restart Tourism:
Greek Tourism Minister Harry Theoharis on Wednesday presented Greece's restart plan for the sector in the post-Covid-19 period.
"'Restart Tourism' is a comprehensive, coherent and detailed plan to restore Greek tourism to function safely and efficiently for the national economy," Minister Theoharis said
According to the 'Restart Tourism' plan, Greece during the tourism season will be able to manage possible Covid-19 cases immediately and on the spot at destinations, while safely welcoming and hosting tourists from abroad.
"It has clearly defined rules, which include protocols for the safe operation of tourism businesses and protocols for the protection of visitors during their travel and transport," Theoharis said.
Priorities of the the country's tourism restart plan includes making sure employees and visitors are safe; strengthening health infrastructure in tourism destinations where needed; and supporting tourism businesses.
The minister presented the following timeframe for Greek tourism's restart:
Monday, May 25: Yachting restrictions will be lifted
Monday, June 1: Camps, campsites and year-round hotels will open
Monday, June 15: All other accommodation (seasonal hotels and resorts) will open. On the same day, the first stage of lifting restrictions on international flights will take place, with aircraft landing initially only at Athens Airport
Wednesday, July 1: Second stage of lifting restrictions on international flights at all Greek airports.
July 15: Gradual lifting of remaining restrictions
Are all tourists allowed to visit Greece after 15 june?
According to the minister, from June 15, Greece will allow the entrance of incoming tourists initially from countries chosen based on "epidemiological criteria". The ministry will release a list of countries from which visitors will be able to arrive in Greece by the end of May. Theoharis did, however, mention Balkan countries (specifically Bulgaria), Cyprus and Israel as examples.
July 1 is the date when all of Greece's airports are scheduled to begin allowing international flights to land. People from all countries will be allowed to travel to Greece, except from countries that have negative epidemiological criteria. A list of those countries will be released in a timely manner.
No tests or quarantine
Moreover, the minister said that Greece's incoming tourists will not need to have a coronavirus test prior to travel nor will they be quarantined after arrival.
However, visitors will undergo sample tests when deemed required.
Health protocols
Theoharis said that Greek tourism's restart plan provides specific health protocols for Greece's hotels, tour buses, car leasing companies, ferries, airlines (health rules on board flights and in airports) and checks at entrance gates (questionnaires and sample tests). They health protocols will be announced once voted in parliament.
The plan also sees to enhance the health capacity especially of the country's smaller islands by providing tests and more doctors as well as quarantine areas.
Also, the minister said that frequent health checks will be carried out to all businesses. All of the country's tourism businesses will display the special seal "Health First".
We would like to inform you about the situation and the new rules after Lockdown on Crete (18/05/2020):
--> Most shops on Crete reopen as the country gradually eases its lockdown measures.
Greece imposed a lockdown early in its outbreak, a move that has been credited with keeping the number of deaths and crucially ill at low levels.
Greece is looking to open up restaurants and cafes on 25 may as the number of new coronavirus cases and deaths in the country has been reduced significantly.
-->Travel on Crete :
"Beginning Monday, May 18, travel will be allowed throughout mainland Greece, as well as in Crete," said Mr. Hardalias ( Civil Protection Deputy Minister for Crisis Management.) in his surprise announcement today.
He also said that the government hopes to allow travel between the islands beginning May 25, if the spread of the coronavirus remains contained. He noted that a final decision will be made next week.
Mr. Hardalias said that the decision to allow travel between prefectures and to the island of Crete relates to the preparations made and to the strength of the local infrastructure, in the event a traveler or resident is diagnosed with Covid-19.
-->Travel to Crete:
The EU Commission announced the guidelines for the opening of the European borders and the resumption of travel. The airlines should not be obliged to leave the intermediate seats in the aircraft empty. However, passengers both in the aircraft and at the airports will have to wear masks.
The EU plan also includes the development of health and safety protocols for beaches, hotels, campsites, B&B's, cafés and restaurants to protect guests and employees from
New announcements have been made today, regarding flights to / from Greece as well as ferry travel.
-->Regarding flights from and to Greece, the following announcements have been made
-Flights to and from Italy, Spain, UK, the Netherlands will not resume until at least 31/5
-Flights to and from Albania, N. Macedonia and Turkey will not resume until at least 14/6
-All international flights will only land at the Athens airport until at least 31/5
-Non-EU citizens can not enter Greece until at least 31/5 (there are several exceptions, e.g. family members of EU citizens, those who have a long term visa for the EU, resident of Schengen countries)
-Domestic flights will slowly resume in the next couple of weeks
--> Ferry travel, the following regulations will be in place from 18 May to 15 June:
Passengers will have their temperature taken before boarding the ferry, and they will also have to fill in a health questionnaire, which will also be available online

The maximum number of passengers will be 50% of the maximum allowed number, and 55% in ferries with cabins

In the reserved seating sections, there will always be a gap of one seat between passengers

There can only be one person per cabin, apart from families

The use of masks is necessary for passengers and crew

All other safety precautions will be in use (hand sanitizer available, frequent cleaning, social distancing etc)
We have to wait until the Greek minister will announce a full plan over tourism in Greece, next week.
Tourism & transport: Commission's guidance: https://ec.europa.eu/commission/presscorner/detail/en/ip_20_854?fbclid=IwAR0iqAqap9oiXND7dvpCDcNlNbHT5GyONizQOWm5D8fkSEe6T-tRZQtjsCo
The weather is beautiful that's why all of Cretans are on the beautiful beaches around Crete & they enjoy ice-creams around the city if Heraklion as you can see on the following photos!
Can't wait to welcome you all!
Lets Stay safe and hope for the best!
We will be ready to welcome you with safety on Crete! (we hope on 15 June) 😉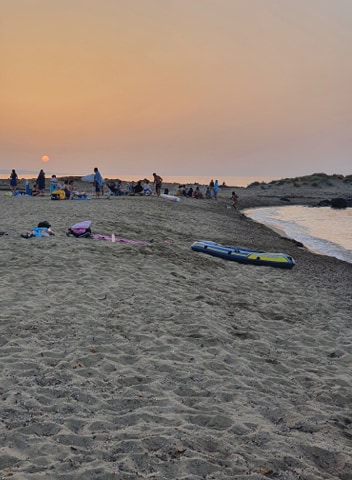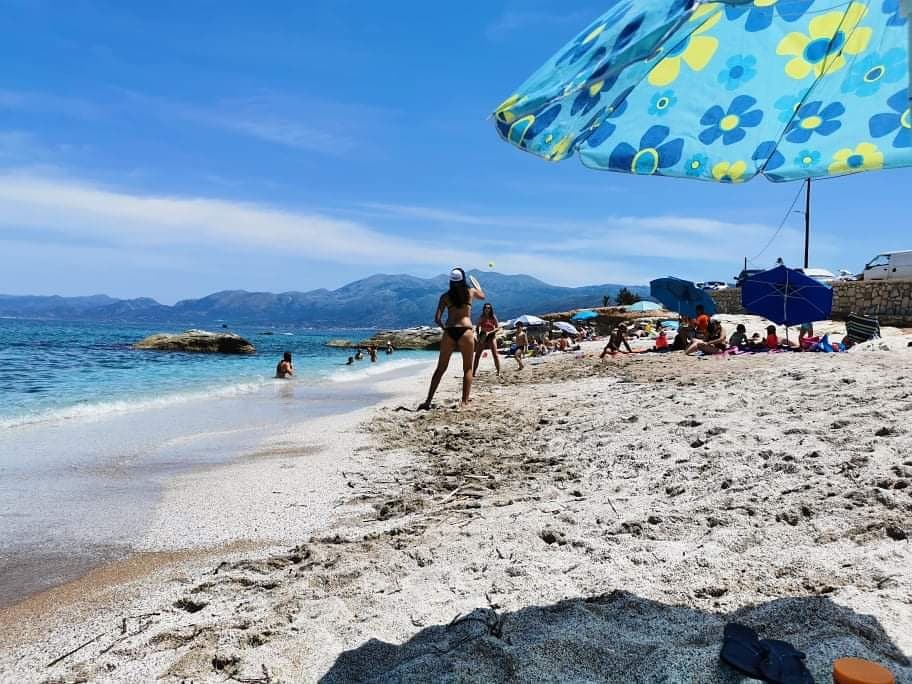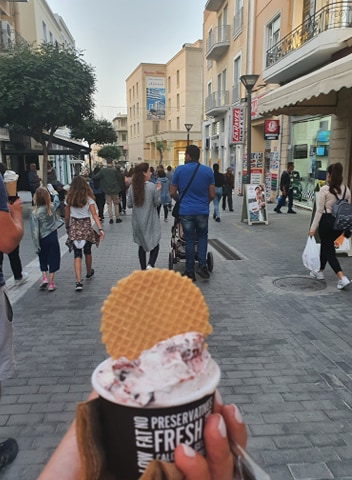 Hello to everybody from Crete (03/05/2020)!
In these extremely challenging times, I would like to share our heartfelt support and solidarity with you and your families. Also I would like to share with your all the information we have and how we live on Crete with the corona crisis & how is the situation now!
Me and my family live in Hersonissos & Ierapetra. We try to be calm and we stay home! We go for a walk by the sea and that is the most beautiful and calm thing we can do in quarantine! I will leave below for you some foto's! 😊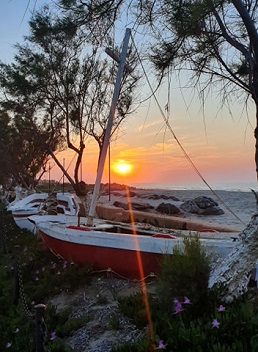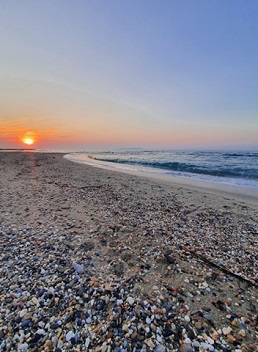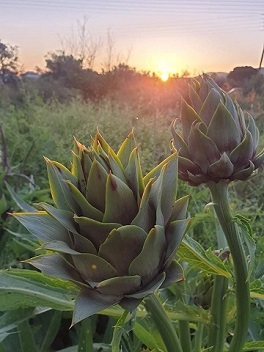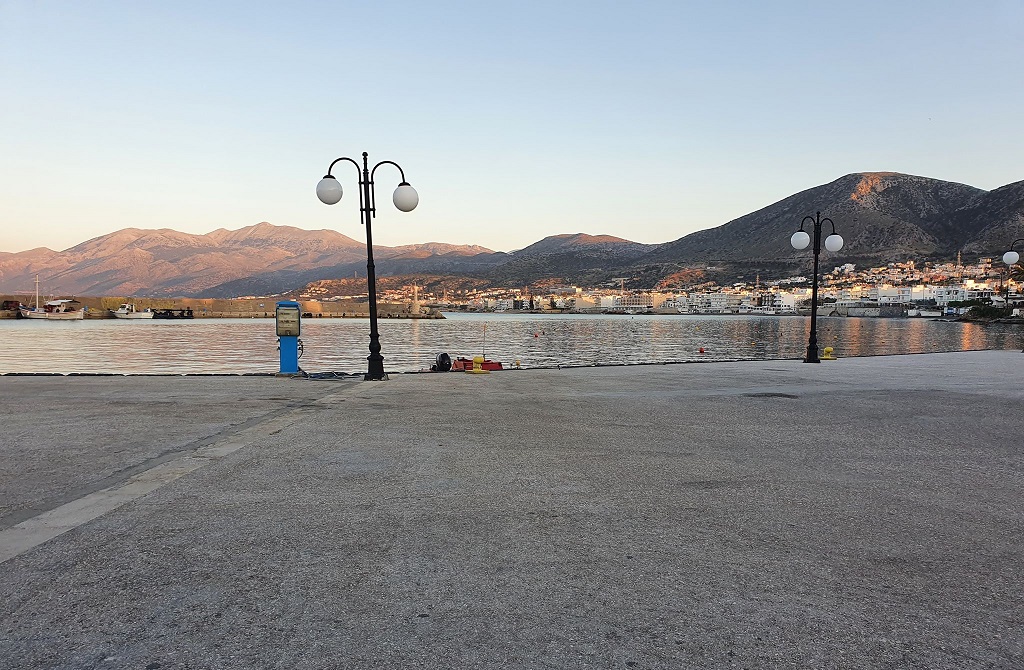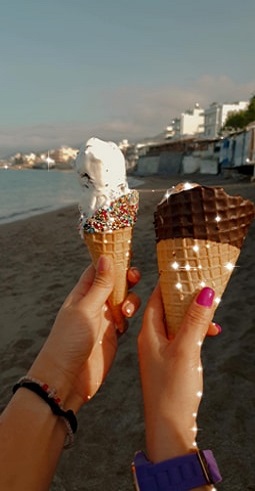 As governments around the world are implementing measures to contain this public health crisis, we have been taking strict precautions to protect everybody. On this time of the year we were supposed to be open! We feel really sad that we can not welcome you on Crete. But we hope that it will be again soon possible.
The public life of Crete has been significantly restricted, according to state regulations to slow down the spread of coronavirus, as is the case throughout Greece: At the moment, most shops, schools, universities and publicly accessible establishments remain closed, and the population is only allowed to leave home if there are good reasons. Hotels will also remain closed . All state hospitals, private clinics and the university hospital in Heraklion are on heightened alert. The movement of goods is not limited, and food supplies are provided without any problems.
We have not any new active case of Corona Virus on Crete for at least 20 days. There was not spread of the virus in the Cretan community. We had cases only with people they were travelling in other places & most of them outside of Greece.
4 of May the government will start slowly to open some shops, schools etc. Hope that the airlines will be able to fly soon and the hotels will open their doors also soon! 😊
It is difficult to watch Crete at this time of the year.
As you know on this time of the year everything would be open and tourists would be around the island and explore the beauties of Crete. Now everything is closed and everybody wish for the best!
As always, we would like to communicate openly and honestly with our clients: at the moment we do not know exactly how this unprecedented situation will affect your summer holiday. We are monitoring the situation closely and keeping close contact with the relevant authorities. We hope that the pandemic will be contained as soon as possible, that the measures ordered will be loosened and that things will return to normal as soon as possible.
However, what we definitely know is that the safety and health of our clients and employees is our highest priority. For this reason, we fully respect and support the measures ordered by the government, even though they mean massive financial pressure for us, as a tourism company. We consider these measures to be the only way for all of us, as healthy as possible, to emerge from this unprecedented crisis in a coordinated manner.
--For all bookings from 18/05/2020:
-All of our clients whose planned holidays from 18.05.2020 now have the opportunity to postpone their booking to another date until 31.12.2020
-if it is not possible to postpone your holiday, you have the possibility to cancel your booking free of charge. There are no cancellation fees for your booking! You can cancel your booking without fees up to 2 days upon your arrival.
--Hygiene & prevention measures to welcome you with safety when this will be possible again!
Crete Holidays & AutoTours follow predefined and established procedures to prevent infections and have increased their hygiene measures. To ensure the best possible level of precaution and prevention, we monitor the situation closely and maintain close contact with the relevant authorities.
Stay home & Stay healthy and we hope to see you this year as every year on Crete!
We miss you all and hope to see you soon!
Crete Holidays's & AutoTours's Family
Myrto, Anneke, Katerina, Maria, Apostolis
Also important to know:
Credit card not needed.
We have 15 years of experience.
We stand for no nonsence car rental.
One way rental is free of charge for 1 week or more.
We are operational 24 hours a day.
We also offer non smoking cars.
ATTENTION!!
Treat your car as your own car.
You are not allowed to leave Crete with the car.
Enjoy your holidays
If you have any questions, do not hesitate to call us
from Monday till Friday from 09.00 hrs till 16.00 hrs:
++31 85 00 21 590